Vice-President Miyata Presents KGU IB Initiatives at QS APPLE 2018 Conference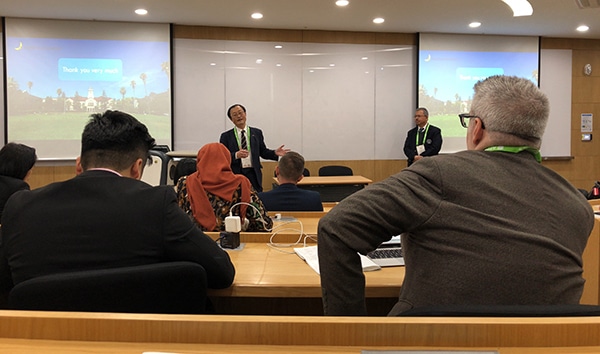 From November 21st to 23rd, the 2018 QS Asia Pacific Professional Leaders in Education (QS APPLE 2018) conference, sponsored by the British education organization Quacquarelli Symonds, was held at Chung-Ang University in Seoul, Korea. Dr. Yukio Miyata, vice-president of KGU, attended the conference to give a presentation about university initiatives. The conference served as a place for participants to discuss a variety of topics related to internationalization in higher education, such as the effectiveness of world university rankings, the internationalization of student bodies and faculties, the globalization of the labor market, promoting international assessments, and making universities more well-known on the world stage.


During the parallel session on November 22nd, Dr. Miyata gave a presentation on KGU's IB (International Baccalaureate) initiative. In his presentation, he introduced the unique aspects of the Japanese education system and provided examples of integrated education in Japan from kindergarten until university, as well as unique aspects of Japanese employment, and talked about what forms higher education and employment should take in the future. In addition, Dr. Miyata discussed the domestic push for adopting IB standards and a planned increase in IB-recognized schools, according to Ministry of Education policies. He noted that KGU is the first school in the Kansai region to launch an IB educator program, with the expectation that there will be a growing demand for people with IB educator training. In addition, as a Top Global University, KGU must continue to carry out its educational mission to provide students with the necessary skills for success in a globalized world.