2019.09.20.
KGU Welcomes Incoming Exchange Students for the Fall Semester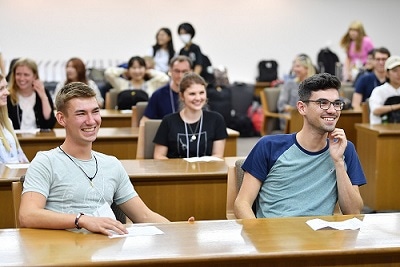 Exchange students from Kwansei Gakuin University's partner institutions all over the world have come to study at KGU for the fall semester. On September 10th, the university organized the first face-to-face meetings for host families and the students at the Kwansei Gakuin Hall, and on September 11th, there was a welcome lunch event at the Big Mama cafeteria. The exchange students were enthusiastic about beginning their time at KGU, and learning many things about the Japanese language and culture.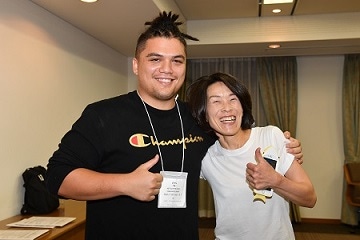 183 exchange students from 31 different countries will study at KGU for the AY2019 fall semester, an increase of 35 students over the AY2018 fall semester (148 students; 113 students for the AY2019 spring semester).

Of those 183 exchange students, 42 of them will live with host families. While they had previously introduced themselves via email, September 10th was the first time that any of them had met face to face. Since the face-to-face meetings were one-on-one, each student waited for their name to be called with a mixture of nervousness and anticipation. As the students faced their host families for the first time, they had relieved smiles on their faces as they said "Hajimemashite" and shook hands or hugged each other. One student from New Zealand talked about looking forward to visiting many places with his host family and eating Japanese food.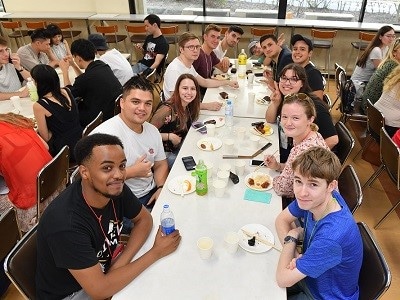 All of the exchange students attended the welcome lunch the following day. After the supervising staff members gave speeches and led a toast, everyone enjoyed the food that had been prepared. Afterward, the exchange students split up into groups, with half of them going on campus tours led by volunteer KGU students, and the other half going to the City Hall to go through various procedures. The campus tour guides answered the exchange students' questions in English, and showed them the places that they needed to know about on campus. Some comments from the exchange students included, "It was interesting to learn more about the campus," "All the students were really nice," and "I'm looking forward to learning about mindsets and cultures that are different from those in my own country."